Professional Chimney Sweep Tamworth, Sutton Coldfield, Lichfield, Nuneaton, Birmingham, Solihull & Surrounding Telephone 07407 453630



Click Here To Fast Book!
Master Sweeps. 4 The Bodnetts, Plantation Lane, Hopwas, Tamworth, Staffs B78 3AU Tel: 07407 453630
Reason # 1
Blockages
Birds, insects and squirrels like chimneys to make their homes in because it's nice and safe and warm in there.
Tel: 07407 453630 to have them removed. Your chimney is the passage that dangerous fumes, gases and smoke take to exit your home so that they can be safely dispersed out into the atmosphere.
If this passage becomes blocked or restricted those dangerous gases cannot escape correctly and have only one place to go...back into your home!
The smell of smoke coming into your home from your fireplace is never a pleasant event and a sure sign that all is not well with your fire appliance or chimney.
However, it's the gases coming from your fireplace that your nose can't detect that are the most worrying.
Carbon Monoxide is an extremely dangerous gas that is created during the combustion process as the fuel in your fire burns. It has no odour or colour and cannot be detected by the human nose.
Whether it's wood, coal, gas or oil you burn, all these fuels give off Carbon Monoxide and if this gas is prevented from traveling up through the chimney and escaping safely to the outside air then your health and even life can be at risk.
Read the link on this site about Carbon Monoxide for more details about this killer gas or do a Google search.

Reason # 2
Chimney Fires
As fuels are burned in the fireplace they give off gases and smoke that contain, amongst many other things, creosote. Creosote eventually builds up on the sides of the chimney and once present in sufficient amounts can catch fire and your house along with it.
Creosote deposits are highly combustible and are just waiting for a flame to ignite them. For that reason it is highly recommended that you never throw that empty pizza box or collection of old bank statements in to your fire! These items are light weight, will catch fire and could travel up your chimney.
If creosote is present on the sides of your chimney the net effect of a naked flame and creosote is a chimney fire.

Reason # 3
Improved Performance
All fuels need oxygen to burn. A restricted oxygen supply means the fire will never reach the desired temperature (over 500 degrees celsius) and will simply smolder away, and the good money you paid for the coal, wood, oil etc is being wasted. Your money will literally go up in smoke (not heat).
Smoldering fires increase the amount of tar and creosote given off by fuels which collects on the chimney walls and a vicious cycle is created.
By keeping the chimney clear of debris, soot and tar, the gases created during the combustion process will escape unrestricted up through the chimney.
As these combustion gases travel up the chimney they create a vacuum behind them. Nature abhors a vacuum and air from the room is drawn into the fireplace to replace the hot air and gases that have gone up the chimney.
This flow or 'draw' of air is required to create and maintain a healthy fire and a good draw of air will ensure your fuel reaches the right temperatures, thus giving off the heat energy it is capable of producing.
However, the draw rate of air (oxygen) into the fire is determined by, but not exclusively, the diameter of the flue.
The flue when originally built was built to a specific diameter relative to the size of the fireplace it was designed to serve. If the flue diameter decreases in size (see photos on the right of this page) due to a build up of soot and tar, then the net effect is that less air (smoke and gases) can travel up the flue in a given period of time. This means a smoking fire (smoke and carbon monoxide entering the room) and a smoldering fire, i.e. a fire not reaching its' full heat generating potential.
By having your chimney swept at least once a year you will be helping your fuel to burn correctly and produce the heat it is capable of producing. Giving you more value for your money. You will also be prolonging the life of your chimney or liner and at the same time reducing the possibility of having a chimney fire.

Reason # 4
Unpleasant Odours
During warm summer months when fires are not in use they can give off unpleasant smells.
The reason this happens is due to a difference between the air temperature / pressure inside and outside the house.
Basically, the air temperature / pressure inside your house may be different to that of the outside air temperature / pressure.
This causes the air from outside to be drawn down your chimney and into your home. As the air proceeds the wrong way down your chimney it picks up the odours from the tar and creosote that may be present on the sides of the chimney and transmits those odours into your home.
Having your chimney swept at the end of the burning season may help to reduce these unpleasant odours in the summer months.
Why You Should Sweep Your Chimney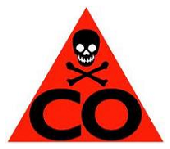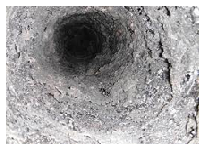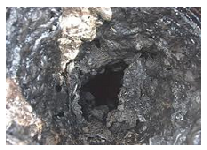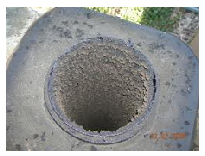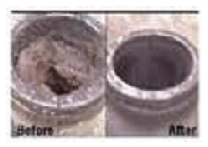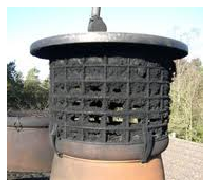 Creosote / soot 'choked' flue
Almost totally blocked & a fire
waiting to happen as well as
carbon monoxide poisoning
This type of build up will significantly reduce the performance of the chimney and will cause a poor draw and subsequently the fuel being burned will not burn correctly or give off the heat energy it is capable of providing.
Before & after of a flue that has been 'flayed' to remove creosote. Now the chimney can function properly!
It is also very important to ensure that your cowl has not become clogged up with soot deposits like this one.
A chimney sweep would easily be able to clear this soot build up as part of a chimney sweep service by simply attaching a rotating handle to the last rod inserted into the fireplace and rotating the sweep brush at the top of the chimney or by using the new power sweeping method. Does your chimney sweep do this?
Does your chimney sweep ensure your cowl is fully cleaned as part of the sweep? If not perhaps you should consider changing your chimney sweep?.
A professional chimney sweep's job is to remove soot, creosote blockages and debris from your chimney flue to ensure your fire appliance operates properly, i.e. has a good draw, to ensure that products of combustion, (smoke and gases) can freely travel up the chimney flue and escape into the outside atmosphere and to ensure it is safe for you to use your fire appliance.
Your chimney sweep should have all the tools required to carry out the service you are paying them to complete. Any person can buy a set of chimney sweep rods and brushes. However, it takes a lot more than these few items to carry out a proper chimney sweep. Knowledge, training, skills and the correct professional tools are a prerequisite to completing a safe and effective sweep.


Reason # 5
Reduces Damage to your Chimney
Tar and creosote damages your chimney flue or liner over time and when combined with water vapours will literally eat through a stainless steel chimney liner and mortar.
Having your chimney or flue liner swept reduces build up of these chemical compounds and increases the life span of your chimney.
To arrange a chimney sweep call me on Tel: 07407 453630
Or leave a message requesting a call back and I will return your call within the hour
Alternatively, you can send me a message by filling in the form opposite and I will respond quickly to your enquiry.
If you are looking for a quote just let me know the approximate location of the property and the type of fire appliance you use, e.g, open fireplace or stove.
I will then provide you with the cost of a sweep.

Return To Top
For more information about the sweeping process click here