The cost of Carbon Monoxide alarms has dropped significantly in recent years. Audible
Carbon Monoxide alarms are available from £20 upwards and can be purchased at DIY stores
and some supermarkets or can be bought directly from energy suppliers.
When you buy a Carbon Monoxide alarm, make sure it meets current European safety standards.
Look for alarms marked with the EN50291 standard. This may be written as BSEN 50291 or EN50291 and with the 'CE' mark, both of which should be found on the packaging and product. Alarms will have either a Kitemark or Loss Prevention Certification Board (LPCB) logo to show independent testing and certification.
When placing and using an alarm in the home it is best to follow the instructions that were supplied with the alarm. However if you can't find these then here are a few guidelines that will help you decide where to place an audible Carbon Monoxide alarm in the home:
* Place the alarm in a central location in the home (e.g. the hallway or landing if you have an upstairs) where it will be heard if activated.If you want to fix the alarm to a wall then position it at head height ( i.e. your breathing level), however, the alarm does not need to be fixed on a wall, e.g. it can be placed on a table, shelf or bookcase.
* If you have a portable battery alarm you could place this in the room that you spend most of your time such as a lounge or bedroom - you can even move it from room to room with you.
* As with smoke alarms, test your Carbon Monoxide alarm regularly with the test button (follow manufacturer's instructions) and replace the batteries annually or when the low battery signal sounds.
* Do not place the alarm in a cupboard, behind furniture, near an outside door or ventilation, e.g. extractor fans or cooker hoods.
* Do not place alarms directly next to fires, boilers, cookers or heaters - the alarm should be at least 1 meter away from any of these appliances.
* Do not place an alarm in an area of high condensation and steam such as a bathroom or kitchen or sources of steam and condensation.
* The alarm should not be placed on a ceiling like a smoke alarm
You should never ignore a Carbon Monoxide alarm. Check the manufacturer's instructions to make sure you can recognise the alarm sound emitted when Carbon Monoxide is present as well as the low battery signal to avoid any confusion. If the alarm sounds, call the relevant fuel advice line for help and seek medical advice urgently if anyone is feeling unwell. Some signs and symptoms of Carbon Monoxide poisoining are given opposite.
Carbon Monoxide alarms must never be used in place of annual safety checks.
They are a second line of defence. There is no alternative to proper installation and maintenance of your appliances.
For more technical information and help about alarms and their use contact CoGDEM (the Council for Gas Detection and Environmental Monitoring) on freephone 0800 1694 457.
About Carbon Monoxide
You cannot see it, smell it or taste it - but Carbon Monoxide (CO) can kill or cause permanent damage to your health.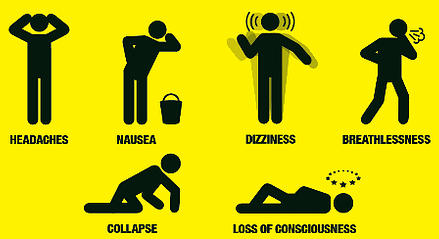 The elderly and young are at higher risk than healthy adults.
If your appliance (fireplace, stove, cooker etc) does not fully discharge all the gases and smoke given off from the fuel you burn, e.g. coal, wood, gas or oil, up the flue and safely to the outside air those gases will need to escape to somewhere else. Usually this is back into your home and then into your body.

Each year, there are around 30 deaths from Carbon Monoxide poisoning* and many more people suffer health problems due to Carbon Monoxide exposure.
Some 20 million households in the UK don't have their appliances checked regularly enough or have an audible Carbon Monoxide alarm - leaving them under- protected and at risk of Carbon Monoxide poisoning.
Steps to keep your household safe
* Fit an audible alarm
* Service your appliances
* Don't block ventilation
* Know the signs
You are at risk of Carbon Monoxide poisoning if:
* Your fuel burning appliance was incorrectly or badly
installed
* Your appliance has not been safety checked and
serviced annually
* Your chimney or flue is blocked or has not been
swept regularly
* There is no audible Carbon Monoxide alarm fitted
and working in your home

Service Your appliances
For protection from Carbon Monoxide poisoning you must have all fuel-burning appliances - including stoves, fires, boilers and water heaters - serviced annually by a qualified and registered engineer.
All gas appliances should be serviced and safety-checked annually by a Gas Safe registered engineer. 'Gas Safe' replaced the old 'CORGI' gas register in Great Britain and the Isle of Man on 1 April 2009. To check if an engineer is on the Gas Safe register visit the Gas Safe Register or call 0800 5500.
For solid fuel appliances, contact HETAS (www.hetas.co.uk or 0485634 5626) and for oil appliances contact OFTEC (www.oftec.co.uk ) or 0845 658 5080.
If you live in rented accommodation with gas appliances your landlord must provide you with proof that a Gas Safe registered engineer has safety-checked the appliances within the last 12 months.